Backyard ponds are a lot easier to install than many people believe. A lot of people care about creating ecofriendly installations, and with some detective work, anyone can create a stunning backyard pond by remembering to add a few essential items.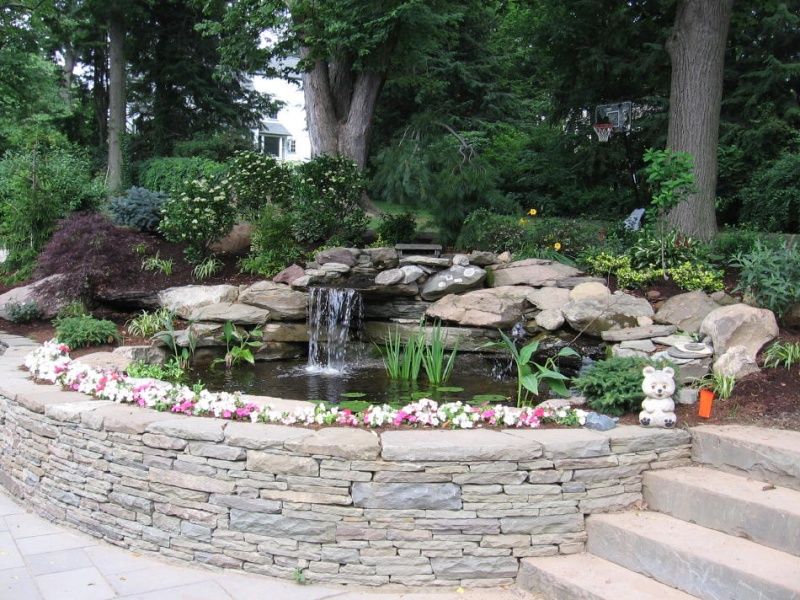 Types of Ponds
There are three different types of ponds that are usually more popular in residential homes: cut-a-way falls, koi ponds, and disappearing fountains. Cut-a-way falls contain goldfish and a variety of aquatic plants. These ponds usually occur in more moderate climates, and have adepth of at least 2 feet, while colder climates require a depth of 12 or 16 feet. Koi ponds are different, as they limit the plant life able to grow, as some koi eat other plants. Koi ponds should be no less than 1000 gallons, with an area of 4-5 feet deep.
Where to install your backyard pond
Ponds generally far better when they are installed closer to the home, and can be viewed all year round. You need to position the pond in an area which is more accessible to wildlife and is away from rain runoff. This may cause a need to alter the terrain of your backyard, but that is something that can be easily done. Try and keep your pond away from trees with falling leaves and branches, and in an area that will receive around 4-6 hours of sunlight if you wish to grow plants and house amphibians. Make it last longer by using a pond liner which will make it extra durable and prevent the pond from leakage, you can go on websites like fabricsolutions.com.au to find some of those.
Plants
Once you have decided where to install your pond, it is important to find out the type of plants that will grow in that area of your backyard. Some plants do not flourish as much in shaded areas, and some weeds are more likely to grow in sunnier area. It is important to use plants that are native to the area and climate, and work well with the installed pond. Also, if the pond is the feature of the garden, bright, colourful, and attractive plants are more likely to draw attention. A lot of the times these plants already grow in your garden.
Frogs
If you're living near a swampy reserve or river, you'll more than likely have an abundance of amphibians living in your backyard. Because of this, it's essential to build a pond to house these animals. Frog ponds are relatively easy to create, are quite inexpensive, and don't take a whole lot of effort to install on your own. Simply dig out a base, purchase a pond liner from a garden centre, and place stones on the edges to hold it in place. You can also consider placing smaller stones around the edges as well as lily pads to act as filters for the pond. Pumps are also helpful to circulate the water, and outdoor extension cords can be buried out of sight.
If these essential items are considered when creating a backyard pond, there will be no limit to your creative endeavours.