Being a former ICafe owner, I have learned a lot of things regarding networking and troubleshooting computers.  I learned it through the help of my fellow ICafe owners who are professionals and technically skilled in the field of computers.  Through constant practice and acquired knowledge, I was able to man the business by myself with the aid of my eldest son JM, who is now a Professional IT
I will be creating a Networking 101 Category in this blog to share with you some of the basics in Computer Networking and troubleshooting as well.
The first topic that I will discuss is about DNS Problem.
What is DNS?  It is a short name for Domain Name System (or Service or Server), an Internet service that translates domain names into IP addresses 
DNS problems may stop you from being able to visit or open Web sites
Now, how to find out whether DNS is a potential culprit when you're having trouble connecting to a site? You may follow these simple steps:
First:  ping the site to which you cannot connect by issuing the ping command at the command prompt
Go to start – click run – (type) cmd – then click ok
A prompt box will open, type your website or just like this example:
ping www.notepadcorner.com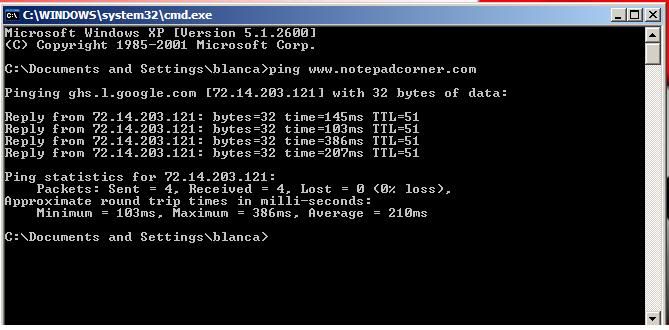 If it's not, you'll get a response like this:
Ping request could not find host.
Please check the name and try again.
If you ping a site and it's live but you cannot connect to it with your browser, a DNS problem might be the reason.
Second:  Check your DNS settings
Make sure your DNS settings are correct for your ISP or network. Usually, it is automatically obtained from your ISP or network administrator.  If you have changed your DNS settings to use a service such as OpenDNS, or Google DNS for example, you might have entered them incorrectly. You'll need to make sure that you've entered the DNS settings properly in your computer or in your router.
Here are the correct DNS service of the following:
Google Public DNS IP addresses
Third: To change DNS servers:
Right click on the My Network Places icon on the desktop and select Properties. (If the icon is not available, go to Start menu | My Computer | My Network Places | View Network Connections.)

 

Locate the network connection that is associated with your Internet connection. This may be labeled something like "Local Area Connection." If you have more than one connection to choose from, be sure you determine the right one before proceeding.

 

Right click on the appropriate connection and select Properties.

 

In the list that appears under the General tab, double click on Internet Protocol (TCP/IP).

 
In the window that appears, you want to select the option:  Use the following DNS server addresses, fill it up with your preferred DNS server
Then press Ok out of all windows until you are back to the Network Connections window. 
You can now open your web browser and browse to a website to see if it connects faster.