Modern life is getting faster, the world's population is increasing and personal space is becoming a premium. Family life is hectic at the best of times and tempers can quickly boil over if people don't have their own space to relax – a personal sanctuary. One option is to extend your home, but this can lead to being bogged down with applications for planning permission – not to mention the cost. We took a look potential uses for the unused space around your home.
Loft Conversion
Above your head is a room where forgotten items collect dust and the Christmas decorations are stored. Loft space is a great source of untapped extra space. Most people use it as a storage space, but with a quick clear out and organise, the loft can be a potential bedroom or study. There is no planning permission needed for a loft conversion, but regulations do require a staircase is installed if it is used as a living space. Skylights, bright carpet and wood panel walls transform a dusty, cobwebbed loft into a light and airy retreat. Converting a loft into a home office is a fantastic idea; while the rest of the house goes about the daily, noisy routine, a loft is surprisingly serene. Away from distractions, it is a perfect place to work or study.
Garage Conversion
The garage is another room in the house that is rarely used for its intended purpose – storing the car. If your garage shares a wall with another room in the house, consider knocking the wall through to expand the room. Replacing the garage door with a window is the norm, letting in plenty of natural light. If you don't want the trouble of knocking a wall through to the garage, you could always turn it into a home gym, music or cinema room (with soundproofing) or even a children's playroom.
Summerhouse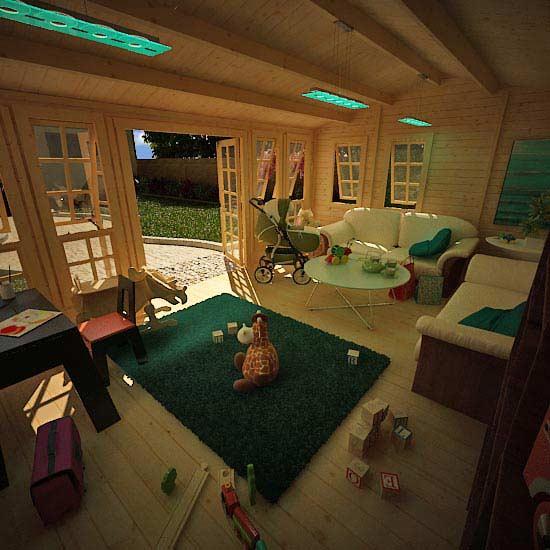 Summerhouses are really just glorified sheds. Modern summerhouses and log cabins are a great way to add some extra space to the house by utilising the space in your garden. Running power and telecoms cables to the summerhouse will allow you to use it as a home office or hobby room. In the winter months, it is advisable to invest in double or triple glazed windows and a constant heating system, controlled by a thermostat. This will ensure any valuables, such as electrical equipment, won't get damaged by the cold and damp.
Sources: YourDesignBuild, Rentify
Marc Smith is a content creator and a web master, he lives in London and he loves design.