Gone are the days when the only place you would find a mirror was in the bathroom and in most modern homes, mirrors are used in many ways around the house for design purposes. We take a look at how to fuse style and function by using decorative mirrors as an integral part of your interior design ideas.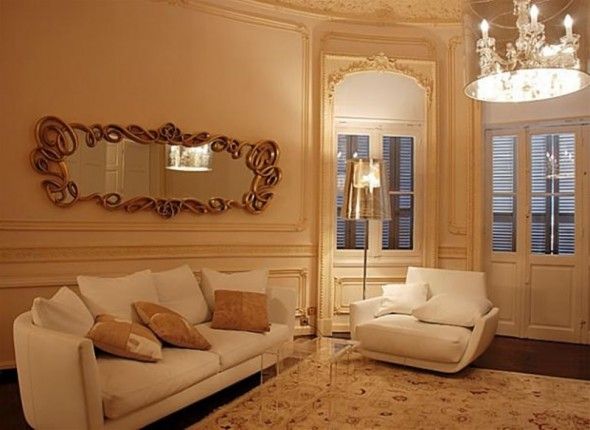 Using mirrors in home design
When it comes to re-modeling and designing a room you can quickly realize that you can use mirrors in every room in the house in any number of different ways. When using a mirror as part of your home design makeover you have to consider their placement as well as considering the size, style and shape of it, and remember that a mirror is not merely something that you look into but also something that you want to look at as well.
Using a mirror in the living room
You can introduce a mirror into the overall design of a room in a number of subtle ways, such as if you want to highlight some bold colors that you may have chosen for the wall, a mirror can be placed to enhance the look without actually being obtrusive in any way. You can also use a mirror to enhance the amount of natural light that you get into a room by placing a mirror so that it reflects the amount of natural daylight coming in and maximizes the feeling of space and airiness at the same time.
Bedroom mirrors
Mirrors can be used in the bedroom for functional as well as style purposes. Depending on the size of room that you have to work with you may want to consider fitting mirrored wardrobes. These are very useful as they make the most of the space that you have available and having full length mirrors running along the length of one of the walls will make the room instantly feeling bigger as well. You can also combine fashion with function in the bedroom by choosing a large mirror with a unique shape that forms the centrepiece of the room as a work of art but also satisfies a functional purpose into the bargain.
Framing a mirror
You can create interest in your existing mirror by framing it with something bold or artistic. Something that works very well is to use metalwork around the mirror or maybe a heavily gilded frame to transform your mirror from something ordinary to a design piece that is altogether more extraordinary.
Open up your spaces
With a bit of creative thinking you can use mirrors to open up spaces in your home that are otherwise dark and uninviting. A good example of this would be a hallway which is often narrow and starved of a good level of natural light. Using a large mirror or even a series of full length mirrors along the length of the hallway will really open up the space and make the area a lot more inviting.
There are so many ways that you can use mirrors to transform the look of your home and the possibilities are only limited by your imagination.
Jamie Parham is an interior designer with a penchant for mirror usage. He loves passing on his knowledge by writing and blogging. Visit Better Bathrooms for more ideas.