Ostrich eggs are considered to be an exotic object. There are ostrich farms that take care of ostriches like cattle and sell them for meat and eggs. But not many people are aware of that ostrich eggs are used not only for food or beauty product, these empty shells are also used to create something even more exotic! Walking around high-end department stores or browsing an Ostrich egg online store will give you strange and exotic items that you can use to decorate your home. Some of these are those jewelry boxes made out of once fragile ostrich egg shell or just the original empty egg shell which can be put simply in a fancy holder and they're ready for display.
The Ostrich eggs are known to be the largest of all eggs and believed to be an ancient symbol to bring good luck. A normal size is approximately 5.9 inches and if measured around the longest part of the egg a large one can measure up to 17 inches or more.  The shells are hard and strong enough to use for making crafts. If you are interested to buy, there are websites selling empty Ostrich egg shells for about $15 each for a large size.  Adorned ones are sold for $50 and up depending on design patterns made.
I would say I was just lucky enough to have a friend who owns an Ostrich farm and generously gives us fresh ostrich eggs every now and then. I collected the egg shells and put them on display.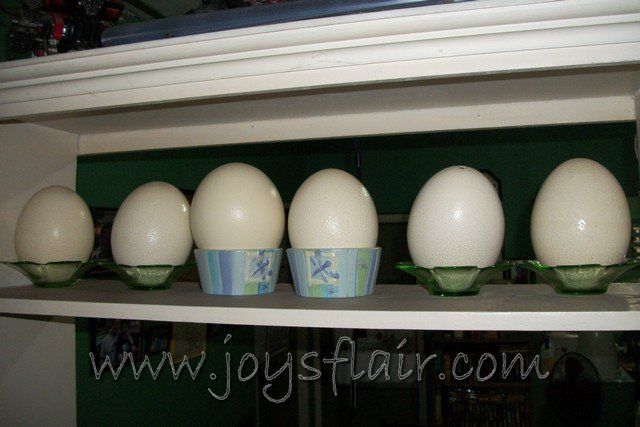 You will be amazed at how these ostrich eggs are cut up or down to create a mini cabinet with drawers to accommodate your trinkets and jewelries!  Some decorative eggs come up with a delicate pattern of flowers or abstract designs. You can also find many exquisitely designed Ostrich egg shells with delicate beading work and a gold-plated egg stand. It is truly made to call attention when displayed and looks good as an added decoration for your homes.