Getting things ready for your big day can involve a grab bag of emotions; it's natural to go from feeling excited and giddy to stressed and anxious. While there is so much planning, adjusting, inviting, etc. to do, it's natural to overlook a few of the smaller details. Although lighting might seem like a miniscule aspect, it can really deplete or enhance the ambiance you're trying to create at your reception, and if you're looking for a few quick and easy ways to create the perfect mood, here are a few suggestions to get you on the right track.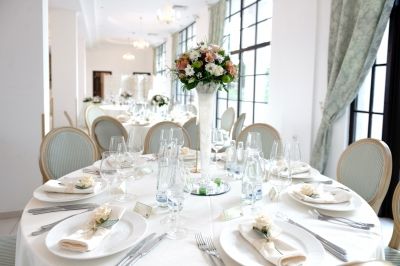 Narrow Your Focus
Before you start picking out any lamps or chandeliers, it's important to narrow your focus as far as what kind of atmosphere you wish to create. Receptions can be casual, others are elegant, and some are funky; it really comes down to what you and your groom want to experience after you say your vows as well as what would be the best fit for mingling with your friends and relatives.
Know Your Location
In order to design the best lighting scheme, it's vital to know what you have to work with. Go to your venue and make notes of the follow things:
How do you plan to arrange the seating?
How accommodating would the venue be for hanging lights?
Are there windows, and if so, could sunlight distract or enhance the mood?
What would you like to highlight? The wedding cake? Where you and your groom are seated? The champagne station? The dance floor?
Have a Budget in Mind
Obviously, if you have a generous budget to work with, you'll have quite a few options to choose from. Instead of doing this all on your own, you could hire a wedding designer to help you plan the perfect layout, design a custom projection template, etc. On the other hand, having a small budget to work with doesn't necessarily mean that you can't create an extravagant light display either; it just means you'll have to get creative and use your resources effectively.  Candles, paper lanterns, and string lights are all affordable, and if laid out in the right design, can look very chic and classy.
Choose Your Lighting
Now that you have the business part out of the way, it's time for the fun. Picking out your lighting is a chance for you to be creative and take control over the environment you're designing. There are many options available, so it shouldn't be hard to find the perfect set-up that matches your focus, location, and budget:
Chandeliers and paper lanterns work great for overhanging lights. You can also arrange string lights to create a canopy over the tables.
Consider lining the tables with candles to create a romantic mood.
Find lights that match the color scheme of your wedding and if you have the budget, rotating colored lights create a fun atmosphere.
Project a spotlight on any centerpieces you want to emphasize.
Try to get lights with dimming effects, so that you can change the ambiance as the night goes on.
Consult your wedding photographer to ensure that the illuminating effects you choose will show up well in photographs, and always make sure to test everything out before the big day to avoid any mishaps.
It's important that your wedding feels exactly the way you and your groom want it to. As you're trying to get every small detail in order, don't forget the dramatic effects lighting can help you create. If you take some time to execute the vision you have in your mind, you'll create a moment you'll fondly look back on time and time again.
Ross Donald is a freelance writer who loves talking home design. He currently writes about decorating, remodeling, and lighting.
Photo credits:  Rosen Georgiev of FreeDigitalPhotos.Net