Family time could be considered the most important part of the day. With work, school, and extracurricular activities, every member of the family seems too busy to spend as much time bonding as they used to. While a family room remodel will not force family members to spend more time together, it will at least provide a setting that encourages family time.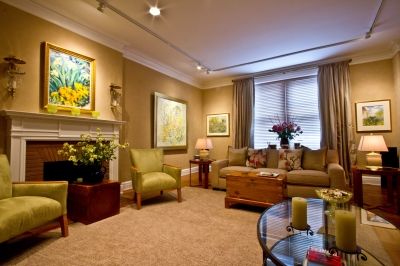 Planning the Change
The first step of every remodel should be to consider the current room layout. What do you like and dislike? How can it be improved? Once you have your list decide what changes you can and can't live without. Home renovations can be expensive. You don't want to run out of finances before the room renovation has been completed. For remodels that alter the structure of your home, you need to be sure to receive a construction permit before you begin the project.
Make the Room Larger
Room size can contribute to how much use the room receives. Cluttered rooms can limit the number of people that can comfortably occupy it at once. If you have a larger family and a small family room, you should consider making the family room larger.
You can make your family room larger with one of three methods:
Room Switch. If you are lucky enough to have a larger room in your house, you might want to consider moving the family room into that larger room. This method will require no significant remodels.
Wall Removal. A room can be enlarged by knocking down a wall. This will create one large room instead of two small rooms. Before beginning this type of remodel, you need to check that the wall that you plan to remove is not a load bearing wall. You should also determine if you will need to rewire the room or move the plumbing pipes. These can be unforeseen expenses that you should consider before attempting to remove the wall.
Add–Ons. You can create a larger family room by adding onto the house. You can either add onto the current family room or attach a new room to your house. This particular avenue will most likely be the most expensive family room remodel. Although it will give your family more room.
Furniture Revamp
Have you owned the same grungy furniture since the 80s? Have your kids spent years staining, tearing, and crushing the spirit of your once treasured furniture? If that is the case, your new and improved family room could use new furniture. Before hitting the stores, you should measure the dimensions of your room. The last thing you need is to purchase furniture that is too big.
Types of furniture to consider:
Stevie the TV. You certainly do not need a new TV every year, but you should consider purchasing a new TV for your family room if your current television is older than 10-years-old.  Movie and TV obsessed families might be more inclined to spend time chatting on the sofa if they know that the television in the family room is superior.
A New Cushion. Eventually every couch meets the end of their life span. If your couch looks like it would be at home in a dump, then you should purchase a new couch. For parents who still have rambunctious kids or pet owners, I would suggest leather couches.
The Game Table: Every family room should have a table where family can gather and play board games, card games, and eat family meals.  Tables can be either full size tables or smaller coffee tables. If you go with the coffee table route, you should consider buying cushions for family members and guests to sit on.
Window Revamp for a Superior Family Room
Windows provide natural light and allow family members to observe nature from the comfort of their couch. They also allow family members to an easy escape if there is a fire. Unfortunately there are also many reasons why people might choose to limit the number of windows in a room. Windows lead to annoying glares and gaps in your room's insulation. Here are some methods to improve your windows.
The cheapest method would be to invest in black out curtains or cellular blinds. This method is fairly inexpensive at about $100 dollars per curtain and about $50 per blind. It will prevent glare and reduce the heat loss while the curtains or blinds are closed.
Window film can be applied to new or old windows. Window film is attached to window with an adhesive. The window film prevents UV rays from entering the home through the class. This will reduce both the heat gain and the amount of light allowed into the home. With window film you can enjoy the great outdoors at all times.
By the end of your family room remodel, you should have created a room that your family wants to use. If you notice a number of impromptu family hang-outs than you know your money has been well spent. If you do not notice any change, you may need to nudge that change along.
Photo credits:  Maggie Smith, FreeDigitalPhotos.Net