The traditional Christmas jumper is now more popular than ever! With fashion blogs calling them a fun must have addition to your winter wardrobe, they are literally flying off the shelves.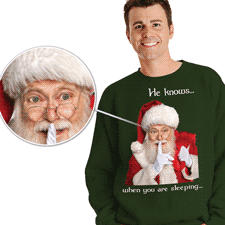 So how can you stand out from the crowd this Christmas? By embracing technology! The company behind Morphsuits have decided to take the idea of traditional knitwear and bring it into the 21st century.
The Morphsuits Christmas Jumpers, which are powered in part by your smart phone, are the first ever range of digital Christmas jumpers available to buy and feature all sorts of different designs. From a roaring fireplace to a snowing globe, these jumpers will make you the talk of the party wherever you decide to wear one.