Some people enjoy hunting and some do not, but animals provide several benefits. One of these includes the antlers. Antlers can be great methods to decorate a home or cabin. Whenever I see antlers either on the wall or as part of some do-it-yourself (DIY) home décor piece, I instinctively think of a rustic cabin in some rural town. You've probably seen antler chandeliers, lamps, or furniture. But you can do much more with antlers than simply what you see in stores. Here are some of my favorite, yet unusual DIY home décor antler creations.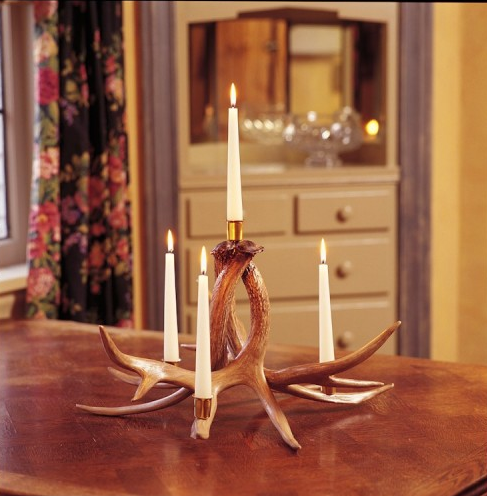 Toilet paper roll
The antler toilet paper roll is pretty simple to make and can be easily mounted on the wall or standing base. The dowel can be a little tricky to make work and drilling a screw into solid bone, but with a little patience and finding the right section of bone is a key to aiding the process. There's just something about antlers decorating the restroom that make it feel so warm and cozy and I can't put my finger on it. I suppose this goes for the rest of the house though.
Candle holder
An antler chandelier is popular. It looks extravagant and matches many different color patterns and room layout styles. But if you've already decided on a chandelier or an antler chandelier just doesn't fit right in the room, you can use antlers as a candle-holder. It looks great, especially for those candles that are not encased within a glass jar. One of my favorite DIY décor options is the mount the antler upon a cross section of a tree (5 or 6 inches in diameter), and place the candle at the top of the antler. It looks wonderful but is quite easy to make.
Wine bottle holder
I'm not a big wine drinker, but one of the coolest rustic home décor options I've come across is a wine bottle holder. The nice thing about the antler wine holder is that you don't really have to do any antler modification. You can just take your wine bottle and see how it fits in the antler. This could work for any other kind of bottle such as beer or soda, but red wine is best served at room temperature (65-70 degrees Fahrenheit) therefore you don't have to worry about chilling before serving.
Cabinet handles
Typical metal drawer and cabinet handles are boring. There's no style, no character, and they look plain. Check out the picture below. If you want your cabinets to stand out, remove the old handles attached by the manufacturer (it isn't hard and should only take unscrewing a screw or two to disassemble).
Obviously, it'll take quite a bit of work to get the picture on the left to look like the one on the right, but you can see one of the many possibilities.
Miscellaneous
Religious décor, dream catchers, bowl mount/base, vase holder.
Antler décor can prove to be a great way to decorate your home or cabin, and get that rustic feeling you've always wanted.
Daniel Swinton is an interior decorator and freelance writer. He specializes in cabin decor. When he's not decorating for his clients, Swinton finds time to perform in local improv troupes and to hike on his favorite trails.