When you come home from a long and stressful day at work, it is important to kick back, relax and unwind. After all, the time that you have at home may be the only chance you have to relax and get away from the monotony of day-to-day life. Therefore, it is important that you really enjoy that time to recharge and get ready for the next day. Here are five great ways to relax at home after a busy day.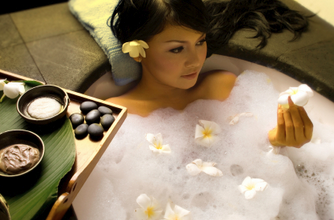 Leave It At The Door
It is a great idea to have a desk or basket at the front door where you can leave your car keys and work related stuff. The idea behind this is that it will help you separate work from home so that you can better relax in the evening.
Meditate
Meditating can have plenty of positive effects on your body and mind. When you come home from work, try and find just a few minutes to sit down, close your eyes and relax. It is important that you free yourself of the stress at work and think about the positive things that make you feel calm.
Sit In The Hot Tub
No matter the weather, sitting in the hot tub is a comfortable way of relaxing after a stressful day. Places like Bullfrog Spas offer a variety of hot tub units that will help you unwind and feel comfortable. Be certain that you consider hot tub maintenance tips to ensure that you extend the life of your tub. The more attention you put into assuring the quality of your hot tub, the longer you can enjoy it after long stressful days.
Read A Book or Watch Television
Some people really like to challenge their mind with a book when they come home. Others like to simply throw on a TV program and zone out. Both ways will help you take your mind off work and put you into an adventure in another world outside of your own.
Write In A Journal Or Blog
Consider starting a blog or writing in a journal so that you can look back on your life in the future. Both of these options allow you to create notation that will help you remember certain parts of your life. However, try and keep the blog somewhat positive as this is the best way to keep your mind off of the issues you may be having at work.
You can relax when you come home from work in a variety of ways. Consider some of the tips on this list to make sure you have a relaxing night at home.