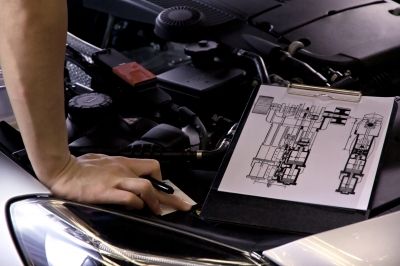 A well-maintained car will last for thousands of more miles than one that is neglected. If you are serious about keeping your car in good condition, and maximizing its resale value in the future, it is crucial that you observe a regular MOT inspection schedule. MOT inspection can ensure that your car is running safely and efficiently and alert you to and problems that need to be addressed. Annual MOT certification is also required by law on most vehicles over 3 years old. These laws are in place to ensure public safety as well as minimize harmful emissions in the environment.
Named for the now defunct Ministry of Transportation, MOT testing is now administered through the Vehicle and Operator Services Agency which is part of the larger Department of Transport. Certified technicians will evaluate safety, exhaust emission levels, and general road worthiness of a vehicle. Specifically, the following parameters will be evaluated during a standard MOT test: 
Steering
Suspension
Lights & Turn Signals
Tyres and Wheels
Body & Structure
Exhaust, Fuel & Emissions
Brakes
Seat Belts
Driver's View of the Road
Chances are that you will not have to travel far to get your vehicle inspected. There are thousands of car servicing garages across the country that has qualified inspectors. You have probably seen the MOT test station flag with a blue background and three white triangles. You can get your vehicle inspected anywhere you see the flag. The inspection is reasonably priced at around £50 for most vehicles (prices are higher for larger vehicles and lower for motorcycles).
When you decide to sell your car, documented proof of regular MOT inspection can greatly increase the value of your vehicle. An up-to-date inspection record proves to the buyer that the car is safe, and documented proof of regular service proves that the car has been well-serviced and taken care of. Also remember that the law requires most vehicles to be tested regularly!
MOT technicians can alert you to concerns that need your attention. This can let you take care of problems while they are minor, saving you the expense of major repairs in the future. With regular servicing, you can get many good years out of an automobile at little cost. Visit the official VOSA website (http://www.dft.gov.uk/vosa/) for information on laws, testing locations, and any questions you have concerning MOT inspection.
The author of this article has over 15 years of experience in the automotive industry.
Photo credits: ponsulak of freedigitalphotos.net