This is my first entry to Toy Story meme, hosted by Mommy Jess the ever first meme I've joined.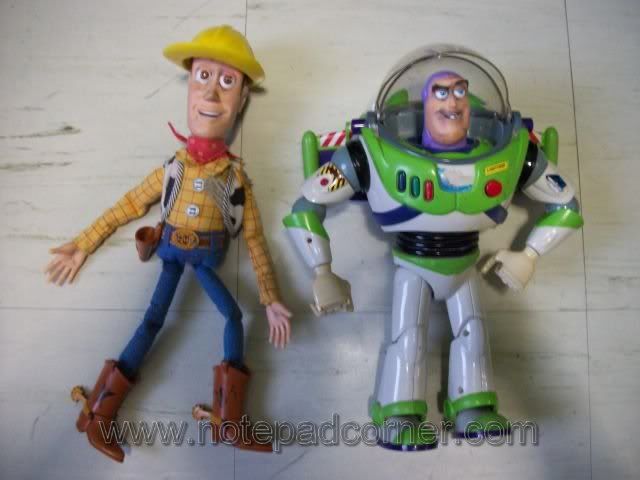 My youngest son, Yahmir was so hooked-up to watching movies eversince he was 3 years old. One of his favorite movie is the Toy Story. He watches this movie over and over again. He even memorized the lines of Woody and Buzz Lightyear, his favorite characters of the story, hihi.
Woody is a pull-string cowboy doll, and is the leader of a group of toys that belong to a boy named Andy Davis. Under Woody's right boots Andy wrote his name. He is Andy's favorite toy.
Andy receives a space ranger Buzz Lightyear action figure as a birthday gift, whose impressive features soon see him replacing Woody as Andy's favorite toy. Woody is disappointed and resentful at his replacement, while Buzz does not understand that he is a toy, believing himself to be a real space ranger.
These toys come to life when humans are not around. Woody and Buzz Lightyear fight in the beginning but later on became friends.
At age 4, Yahmir kept on bugging us to buy him Woody and Buzz Lightyear figures. We roam around all the toy stores and we cannot find a big one, all we can see are small figures only. We bought it, but he really wanted the big one like those in the movie.
My Mom and Dad, who traveled to U.S. that time surprised Yahmir by giving him the actual-size Woody and my Cousin gave him Buzz Lightyear. He was very happy, not showing tantrums, plays with Woody and Buzz Lightyear, all day long. The two toys became his favorite then, he even put them to sleep beside him in his bed.
It has been 7 years since then. The other day I saw him holding the two figures again. He never wanted to give it away. He told me he will keep them together with the Toy Story movie dvds.