Want a car that is extremely roomy, versatile and flexible enough for different family needs? The Honda CR-V 2013 lacks a lot of space for a size that is only slightly bigger than a sedan. This crossover car is a great choice for adventurous families with it's roomy 5 capacity seating and a folding seat arrangement at the back. You'd almost feel like you're in a mini-van with the comfortable seating position that this car offers.
Compared with other compact cross-over vehicles, the Honda CR-V with 3rd row seat arrangement has better legroom space that fits two adults easily. The optional seat can be pulled out and fixed to a seating position in a single fluid motion. It is lightweight so you can easily attach or detach it depending on your needs. If you're too lazy to take it out, you can simply fold it flat! This CR-V model has a lowered cargo floor where you can cram strollers, bicycles or furniture. Even with the back seats down, you still got a roomy cargo space to accommodate everything that your family needs in your road trips.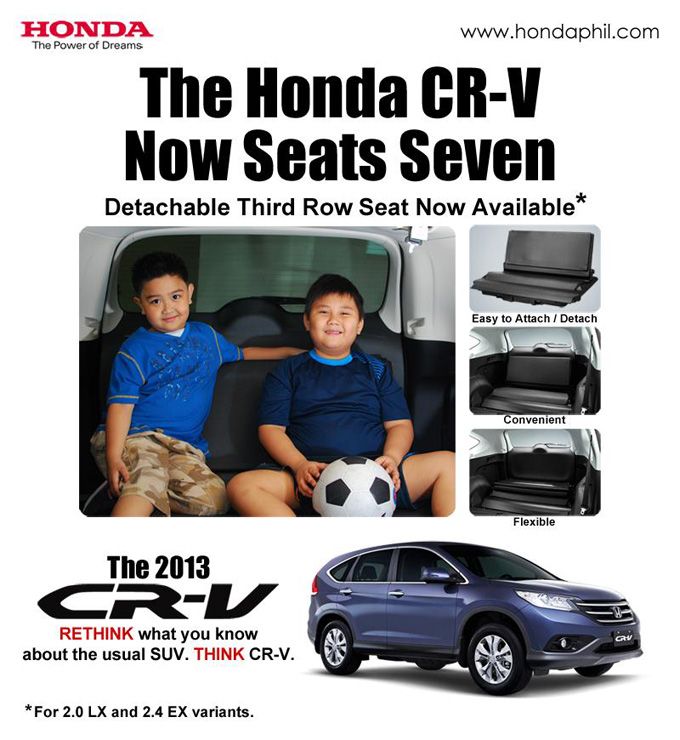 The Honda CR-V rides pretty well and without much harshness. The company certainly made an effort in improving this line's design. You can expect better insulation and bolstered body structure not to mention an ingenious cargo-back seat arrangement.
Photo credits: hondaphil.com