Dengue Cases increased by 40% during the period of January to June 26 this year compared to the same period last year, according to the Department of Health (DOH).
This is very alarming!
I've already mentioned in my previous posts in this blog and in my other blog Notepad Corner about this life threatening disease. Due to my active involvement in the Dengue Campaign, I will be introducing to you Bye-Bye Mosquito, a stick-on patch that my family has been using for several months now.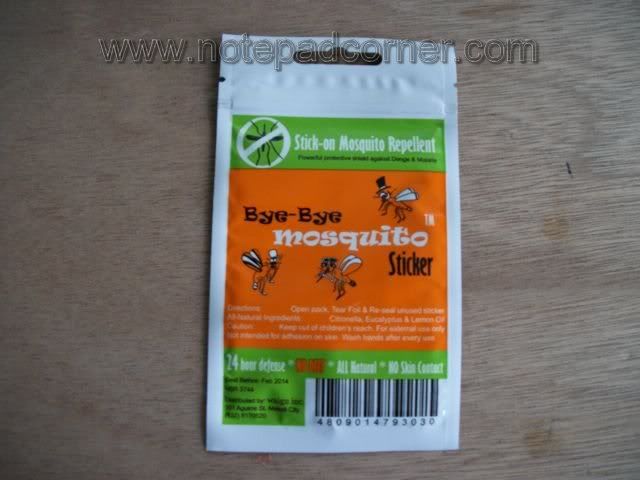 In my search for an affordable mosquito repellent, I find Bye-Bye Mosquito effective and the most affordable repellent out in the market. Patches are fun and colorfully designed costing an average of Php 6.60 per day.
We may be very particular in cleaning our homes inside and out to get rid of mosquitoes, but how about when our family members goes out of our mosquito-free homes? When they go to work or office and children in school, they are no longer safe from being bitten by these flies. We may have them protected through using a mosquito repellent.
Each single sticker of Bye-bye Mosquito is a powerful protective shield for every 60 lbs in body weight that would last for up to 12 hours. This stick-on patch is non-chemical, non-toxic and safe, because the active ingredients of each patch consists of oils of Citronella, Eucalyptus and Lemon.
Benefits of using Bye-Bye Mosquito Patch
–
no skin irritation, nothing is transmitted to the blood transdermally
–
does not wash away with perspiration
Up to twelve (12) hours defense
All Natural, No Deet Formula
1.
One (1) sticker patch per 60 lbs body weight
2.
Balance and centralize scent distribution.
3.
Prioritize lower areas as mosquitos fly low.
It is available at Mercury Drugstores, National Bookstores, Shopwise and selected Rustan's Supermarket outlets and shall be soon available at Watson's Drugstores.
Bye-Bye Mosquito Patch is proudly a Filipino owned brand, distributed by Waigu Inc. For more details, querries, comments and suggestion, you may contact them at (632) 8170520.